Baba's Picks
Finest items available

Hundreds of Ukrainian Easter items: baking supplies and gifts!

Paska & Babka springform pan. Just unclasp. No more digging and scraping! Rolled steel.

Paska mold. Just peel away! No more sticking to coffee cans.

Pysanka supplies. Kistky, beeswax and dyes. Selling out quickly!!

Click on photo

Waring Pro Food Processor
Chefs insist on sturdiness & convenience. "Liquid lock" means no splashing, polycarbonate for no cracking, extra

large feed tube means no sticking!

Stainless Steel Cookware

7 pieces, extra heavy weight
Click on photo
From France: Le Creuset Dutch Oven. Handcast from cast iron, mold is destroyed so every piece is unique. Even heating for perfect dishes! Lifetime warranty.


KitchenWare: Baba's Picks
Baba Recommends these

Cookware, Bakeware & Kitchen Tools
Restaurant Quality
Great kitchenware=Chef-like results!

Do you wonder why bakery cookies are
crispier
, restaurant sauces
smoother
, vegetables
nicer texture
, meats and casseroles so
evenly roasted and moist
?
Baba Secret: chefs use these tools! Professionals do not put up with flimsy-schmimsy thing that break easy, or give weak performance.


Below you will find:
Best pots, pans
, baking sheets, utensils and small appliances. As well
Paska baking tins
and natural
fermentation supplies
, to make your own sauerkraut and pickles with no boiling!
Re: SHIPPING. With very few exceptions, my products ship to both US & Canada. If you find an item which does not ship to Canada, contact a reshipping service for help.
All Clad Vegetable Steamer & Pasta Pot, Stainless Steel

For good vegetable texture.
Retain vitamins & flavour.
Click on photo
Stainless Steel Rondeau Pot. Just right height for stews with easy stirring, high sides mean no splashing.

Bodum: French Coffee Press. If you are serious about coffee taste.

Marble Mortar & Pestle

Be your own Baba Yaga. Grind spices
& nuts like your ancestors.
Click on photo
All Clad Stainless Steel Double Boiler
Cook anything, melt chocolate with no burning. Dishwasher safe, triple ply with porcelain insert. Best!

Perforated Baking Sheet
Holes across bottom create air flow for even, crispy baking.
Click on photo
Calphalon

Stainless Steel Complete Cookware Set
Click on photo

Cast Iron Wok

with wooden lid. Even heating, stops slopping over sides. Excellent for making jams, stir fry and sauces.

Click on photo

Waxon Non-Stick Pan. New technology from marble. No toxic teflon or PFOAs!

Stainless Steel & Brass Chafing Dish. Why chefs don't stress when people are late for meal!

KitchenAid Cast Iron Casserole Dish. Never again will your hard work break and spill on floor. No seasoning is required before use. This cast iron cookware has porcelain enamel coating that does not require seasoning. Dishwasher safe! Absolutely gorgeous, and you can pass to children. Lifetime warranty



GraniteWare Perogy Pot
Click on photo

OXO 15 piece Silicone Utensil Set. Heat-resistant to 4o0 F. Stop melting your utensils!

VitaMix Pro Blender
Easy cleaning. Quality motor resists overheating, so you can make thickest purees. Motor remains cool, so your cold ingredients stay fresh!

Click photo

Italian Heavy Duty

Stainless Steel Roasting Pan
Make chef quality roasted vegetables, potato wedges, beef stock, perfectly browned poultry pieces in this top flight pan.
<<<<Click photo on left

13 Quart Stainless Steel Bowl for Ukie batches.

12" Stainless Steel Vollrath Pan will fry lots perohi! Though this pan sustains heat up to 450 F, its ergonomic handle has very low heat transfer to hand.

Kozak/Kozachka Knives
12 pieces by Mundial
Click on photo

Pie Lattice Cutter

Baba won't tell you didn't do all that by hand.
Hammered Stainless Steel Pro Pastry Server
This is why your restaurant pie is always in one nice piece.

Strong enough to knead bread, varenyky (perogy) and pizza dough, make pasta, shred parmesan blocks, grind sausage, blend meatballs or salsa, mash potatoes. EVEN MAKE YOUR OWN SOAP.

Click mixer photo on right>>>>>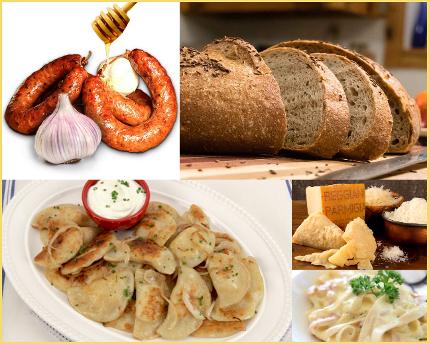 Plus, is very beautiful appliance. Imagine what your Ukrainian Hall could do with this machine: Is half of price you normally pay for commercial mixer, and will also cut labour in half. Empire Red, Onyx Black , White or Pewter.

Click Mixer photo above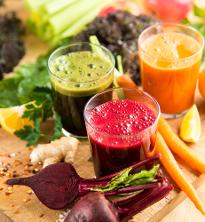 Slow Squeeze Technology
means your precious ingredients are not heated (which destroys vitamins) or wasted.
Click juicer photo above

Omega Pro Juicer


Get healthy
with vegetable and fruit juices.
Can you believe it, this appliance
AUTO CLEANS
(I hate cleaning juicers!), and has
Reverse Mode
in case you cram things in, and something get stuck.
Slow Motor
doesn't overheat.
Italian Stainless Steel Deep Brazier (Roaster)

Without reservation, most efficient, stylish and practical roasting pan in world. No need for hazardous and awkward transfer of your holubtsi, roast beef, ham, chicken or varenyky (perogies) to separate bowl when your brazier is incredibly beautiful. Cook and serve with pride.
Steel transfers heat evenly throughout your dish, to prevent burn spots.

You will be proud to pass this roaster on to your grandchildren.

Vegetable Fermentation Supplies
Make your own probiotic-rich sauerkraut,
fermented pickles and other vegetables! Much easier than pickling. NO BOILING, no burning yourself, no fiddling with sterilizing.
Eat at any stage you like. For centuries, fermented veggies have been best digestive aid.
5 litre/1.3 gallon Stone Fermenting Crock with Weights.

Fermenting Lids with Air Pump. If you already have nice mason jars for fermenting, these are professional lids. Keeps out mold!

Specialty Glass Stone
Weights to fit any wide mouth Mason jar. Fermented vegetables must be kept weighted to "cook" safely and evenly.

Sauerkraut Pounder and Pickle Packer. Pounds moisture from your cabbage. Your kraut is off to good start!

Love paper plate and plastic cup convenience----but concerned about environment?
These Eco-Products are made from COMPOSTABLE, grease & cut-resistant,
plant based
ingredients. It break Baba's heart when she go to Ukrainian hall beautiful meal, then see everything go into garbage. No more!
Available in both small and wholesale quantities.

Click on photos to order.

Compostable Plates
& Borshch Bowls

Click photo

From Omaha Steaks: Fine Ceramic Grill, Smoker & Oven in One!
Forget difficult BBQ. Your food will taste like finest restaurant wood fired grill.
Click photo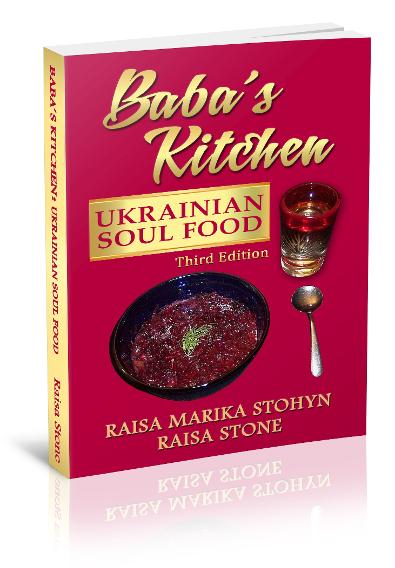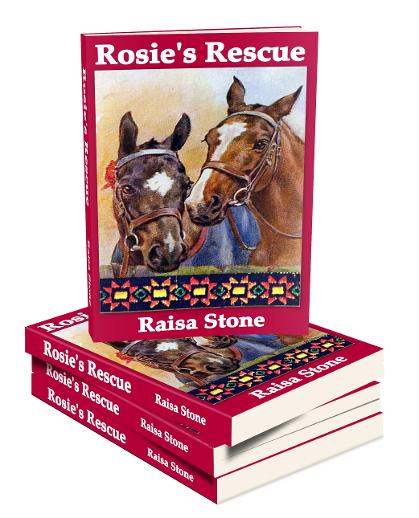 We are a participant in the Amazon Services LLC Associates Program, an affiliate advertising program designed to provide a means for us to earn fees by linking to Amazon.com and affiliated sites.