Re: product prices and shipping. When you click on an item, you will see flags at the top of the Zazzle website page. Click on the flag of your country for prices and shipping details. US sites are .com, Canadian are .ca, etc.

Hello Poopchik!

Have a Very Merry and Blessed Christmas
Baba offers Ukrainian cards and postage, snow globes, keepsake boxes, ornaments, gift wrap and bags, totes, hip flasks, decorative tiles and plates, baking pans, mugs, shirts and more.

Baba's designs are printed on products made by small, local businesses, some family run. Substantial cottons, heavy china, premium inks, wood and metal. No sweat shop or child labour is used in their production. My products are a source of pride for me and my customers. You will find giftees delighted by their beauty and quality.
Once you click on items, you will see my manufacturing site has continual sales on various products, from 15% -70% off daily.

As a free newsletter subscriber, you will occasionally be sent notices of Special Offers.
Enjoy! Have a very Happy Holiday

and Merry Christmas!

~Baba Raisa
Silver Pysanka Coins
Rare 2018 coin from Royal Canadian Mint.

Click below to purchase this unique gift and investment!

Okay Baba, that was fun, but I need to keep shopping for gifts! Scroll down for thousands more Ukrainian culture items.

Okay, just one more...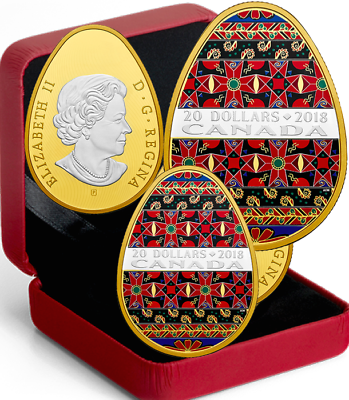 Xlopchiky, boys! Baba telling you, you cannot go wrong with these gifts for woman. Unless she is expecting diamond or house, but that is another story.

CLICK on right hand side to see Baba's entire Christmas collection!>>>>>
_______

See more Ukrainian collections below.