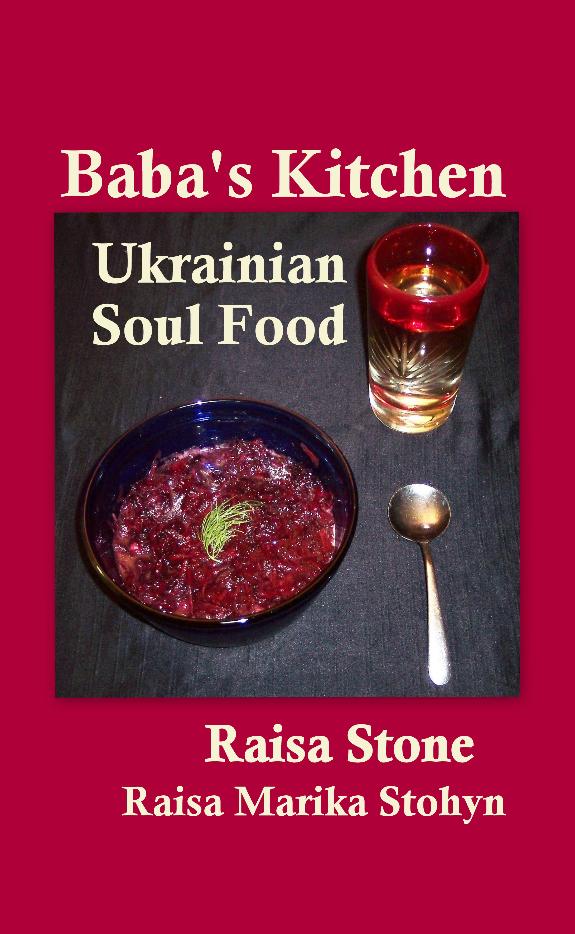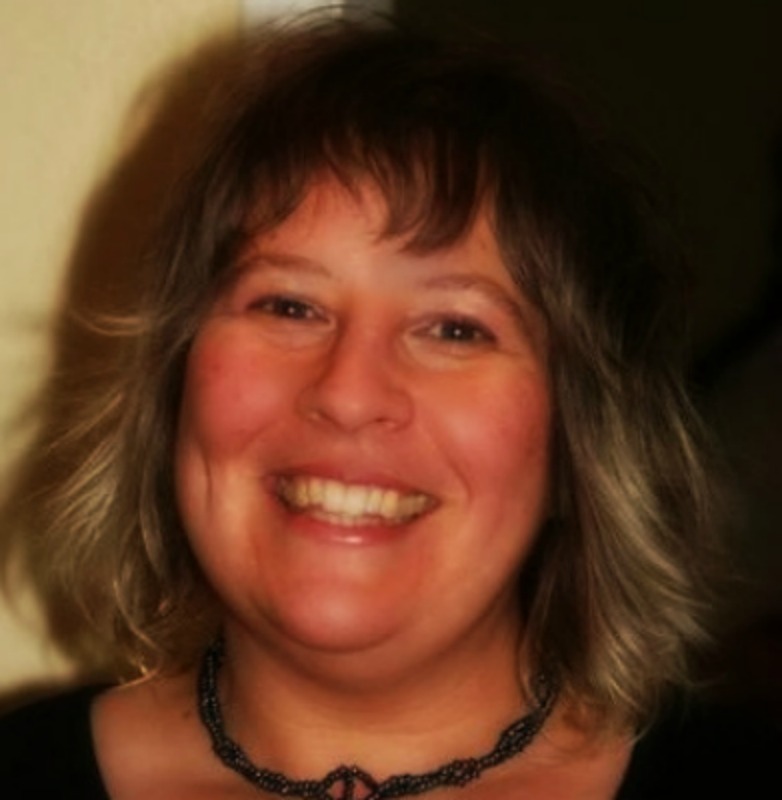 Baba's Kitchen: Ukrainian Soul Food
Available in trade paperback through popular distributors.
Compared to erotic games in the village bath and shoplifting live turkeys in your bloomers, immigrant life is beyond boring. So Baba is brewing up Old Country customs in her kitchen.
She'll teach you to make 190 delicious Ukrainian dishes (plus simple folk remedies) the traditional and The Lazy Way, sabotage frenemies with garlic, and utter chilling Slavic curses such as, "May you be kicked by a duck!"
Between tales of magical encounters with Nature spirits and steaming bowls of borshch is the true confession of the author's elderly neighbour: she murdered her abusive husband. The deadly story unfolds under the guise of cooking lesson, as unexpectedly as Roald Dahl's Lamb to the Slaughter. Raisa kept her neighbor's secret till after her death.
An extensive bibliography informs claims that Ukrainians: first tamed horses, invented pants (for riding!), pyramids, the bow and arrow, homes from mammoth bone, and created Europe's first democratic constitution.
Ancient shamanic practices that sparked the original werewolf legend combine with recipes and customs reaching back to the Neolithic era of Goddess worship.
Imagine a mouth watering honey onion sauce that recalls competing with cave bears and wild bees, and digging into soil that has never known pesticides. Or the seductive magic of preparing sweet delights for the Apple Harvest Blessing.
BC, Canada Author Raisa Stone (Stohyn) has spent 50 years collecting heart wrenching and hilarious stories and recipes from survivors of Soviet and Nazi terror, including her family. Baba is a composite of these invincible spirits. Raisa attended classes at Winnipeg's Ukrainian National Home throughout her childhood. She also brings to this book her background as a professional storyteller, instructor for the Victoria School of Writing and Features writer for The Winnipeg Gazette.
National Ukrainian magazine Nasha Doroha chose her Chornobyl poem to commemorate this disaster. The Ukrainian Canadian Congress is currently featuring Baba's Kitchen and Rosie's Rescue in their 125th Anniversary celebrations of Ukrainian settlement in Canada.

Raisa Stone publishes under the Dear Companion imprint.

Warning: Wicked acts with honey and raspberries, pirates, cowboys, mounted police, scuba divers, bad boys and bald men.
NB: Both a 1072 kb downloadable JPEG of the book cover and a .doc version of this release are at the bottom of this page.
Baba's Kitchen: Ukrainian Soul Food Reviews
"Unique, funny, compelling and totally original. Baba is an amazing woman."
~Jill McCaw, McCaw Media
"Brilliant humor...Down-to-earth spiritual commentary on consciously healthy food for mind, body and planet."~Jason Matthews, author of The Big Bang
"One heck of a belly laugh...Recipes for good old fashioned tasty meals that nourish both body and soul."~Paddy Head, author of Fixed

Click here for more Reviews

Details
Format: 6x9 Trade Paperback
Pages: 384
Interior: Black & white
Category: Cooking Humour
ISBN: 978-1494919085
Print Run: On demand


Dear Companion Publishing

Available from:
-

Baker & Taylor


-

Ingram


-

Barnes & Noble
-Brodart
-Library Bound


-

Library Central Services
-United Library Services
-CreateSpace


-

Amazon

▪

More reviews


▪

Book excerpts


▪

Table of Contents and Bibliography


▪

Baba Answers Stupid Questions about dieting, Neanderthals and Baby Chow


▪

Audio of Raisa Stone performing in Baba's voice---she has credits from Bravo TV, CBC National, the Banff Centre, Victoria Shakespeare Society and SOCAN/ASCAP

Visit the Baba's Kitchen: Ukrainian Soul Food Facebook page here
See Baba on Youtube here


________________________________________________________

For Librarians: CIP Data

Cataloguing-In-Publication Data

Stone, Raisa, author
Baba's kitchen : Ukrainian soul food with stories from the
village / by Raisa Stone (Raisa Marika Stohyn). -- 2nd edition.


Includes bibliographical references.
Issued in print and electronic formats.
Includes some text in Ukrainian.
ISBN 978-1-4949-1908-5 (pbk.)


1. Cooking, Ukrainian. 2. Food--Religious aspects. 3. Ukraine--
Social life and customs. 4. Cookbooks I. Title.


TX723.5.U5S76 2014 641.59477 C2014-900138-X

C2014-900139-8

CCFA has assigned Baba's Kitchen a unique classification as both a literary work and a Ukrainian cookbook!

Design & book cover photo: Raisa Stone
Photos: found in the Public Domain
Graphics program: Mad Mimi