Baba's Kitchen:Ukrainian Soul Food
is 396 page true story about survival from Soviet and Nazi terror.
There is
190 recipe, plus chapter about Ukrainian home remedy
for PMS, bald head, arthritis and twerking.
Find out what my people is protecting. We live in Eastern Europe 44,000 years already. We is Indigenous!



Table of Contents & Bibliography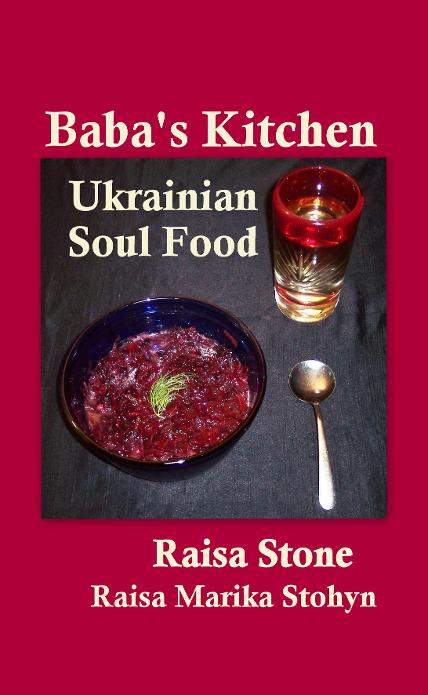 Below is full Table of Content and all book Raisa and Baba study. Where else you going to get 190 Ukrainian recipe PLUS chapter on natural medicine?

Cheap like borshch, only Baba borshch sure don't taste cheap. Ha! First thing she going to teach you make this borshch like real Ukrainian, not some rootsy-tootsy hippie, making funny noise and funnier smell in park.

For starter, Baba teach you to shop for ingredient. Like onion. Do not use kind have green sprout at top. She busy making baby, not have time for you!

Do not never use dry dill. This taste like straw. Pah! Baba spit on it.

Use green cabbage, size your head. If leaf have wormhole, this okay. It mean cabbage not have so much chemical that bug won't eat. Peel this away and leave in store. Ignore dirty look from store worker. Who making borshch, you or him?

This is only start of our relationship, poopchik. Baba keep up this good instruction for over 300 page and 190 good recipe. Will change your boring life into sexy Ukrainian one.
Below is Free Sample Table of Content & Bibliography.

Take you lifetime to make all recipe and laugh at all of joke in Baba book!
Click to Return to Home Page: Baba's books and free newsletter